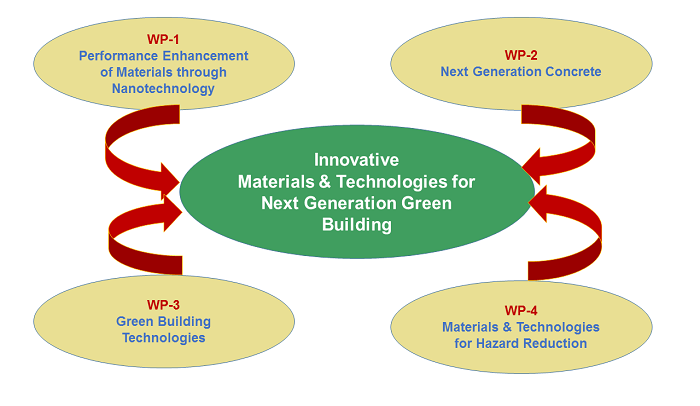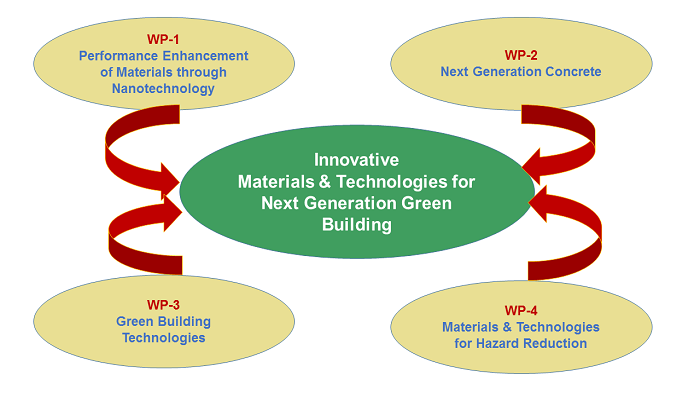 Work Package – 1
The first WP is focused on use of nano technology in various building materials such as cement concrete, multifunctional polymeric coatings, fire retardant plastics and phase change materials. The applications of nanomaterials in cementitious materials for understanding the mineralogical and morphological attributes of Calcium-Silicate-Hydrate (C-S-H) and modification at nano-level to improve the engineering properties of cementitious system is one of the main objectives of the proposed work. Apart from cementitious materials, coatings are being widely used in construction for different applications such as corrosion resistance, thermal insulation, weather resistance and water proofing. Using nanotechnology, coatings can be developed into multifunctional coatings..
Work Package – 2
Concrete is most widely used construction material worldwide. However, it is also adversely affecting to environment by producing green house gases and depleting our natural resources. Furthermore, India and china is using approximately half of the total concrete produced every year due infrastructural development. Therefore, there is urgent need to develop next generation concretes with no cement or minimum cement consumption with excellent performance including self healing properties..
Work Package – 3
Building industry is considered as one of the largest consumers of natural resources during the construction, operation and maintenance. The negative environmental effects caused by buildings – through energy consumption, carbon emission, raw material use and waste, improper use of water – are well known. Energy consuming devices installed to achieve the comfort levels for the occupants of the building give rise to heat generation which adversely affects the environment within the building and in the surroundings. Buildings are thus the major pollutants that affect the urban air quality and contribute to climate change..
Work Package – 4
Sustainability and durability are among the much required virtues for any kind of infrastructure. As the economics of construction and maintenance are increasing, it will be great to have infrastructure which can endure hazards. In view of this, many authorities and agencies are in search of suitable materials and technologies that can protect their infrastructure form hazards and extend their service life to a large extent. Corrosion of RCC reinforcement is a direct threat to durability of the structures and will reduce their service lives. Some of the critical components of the CP system such as anodes are not widely available in India. The imported anodes are very costly and therefore need to be replaced with some cost effective alternative materials..