| | |
| --- | --- |
| Name | Koushik Pandit |
| Date of Birth | 04.12.1988 |
| E-mail | koushik@cbri.res.in |
| Present Designation | Scientist |
| Division | Geotechnical Engineering |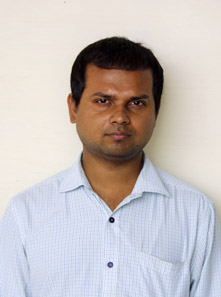 | | | | | |
| --- | --- | --- | --- | --- |
| Degree / Diploma | Main Subject | University/Institution with Distinction | Country | Year of Passing |
| B.Tech | Civil Engineering | Jalpaiguri Government Engineering College (Autonomous), West Bengal | India | 2010 |
| M.Tech | EIDM (Enginnering of Infrastructure and Disaster Mitigation, Building) | AcSIR, New Delhi | India | 2013 |
| Ph.D (Pursuing) | Civil Engineering | IIT Roorkee | India | - |
Specialization
| | |
| --- | --- |
| a) Main Area of Specialization | Soil and Rock Mechanics & Engineering |
| b) Sub-area of Specialization | Design of Foundations for Difficult Terrains; Slope Stability Analysis & Design of Control Measures; Geo-Mechanical Modelling; Ground Improvement: Granular Anchor Piles. |
Countries visited in connection with higher studies, research training, employment and other scientific assignments:
| | | | |
| --- | --- | --- | --- |
| Country visited | Purpose | From | To |
| Nepal | To perform site assessment for 5 schools in Dolakha district of Nepal for the project on Post-Earthquake Reconstruction of School Buildings sponsored by Govt. of India. | 15.04.2019 | 20.04.2019 |
| China | To participate in the International Symposium on Mountain Resources, Environment and Disasters in the Himalayas at Chongqing and to deliver presentation on "Stability Assessment of Road Cut Slopes Along a National Highway in the Indian Himalayas" at Institute of Mountain Hazards and Environment (IMHE), Chengdu. | 25.11.2018 | 29.11.2018 |
Publications and Patents
Journals

Sarkar S., Pandit K., Sharma M., and Pippal A. "Risk assessment and stability analysis of a recent landslide at Vishnuprayag on the Rishikesh–Badrinath highway, Uttarakhand, India", Current Science (IF: 0.843 in 2016), Vol. 114 Issue 7, April, 2018, p1527-1533. DOI: 10.18520/cs/v114/i07/1527-1533 Download link: http://www.currentscience.ac.in/Volumes/114/07/1527.pdf
Behera S.K., Pandit K., and Ghosh C.N. "Fibre Wrapping – A Way for Externally Strengthening Rib Pillars", The Indian Mining and Geotechnical Journal, Vol. 53 No. 08, August 2014, pp. 25-30
        International Conferences
Pandit K., Sarkar S., Samanta M., Sharma M. "Stability analysis and design of slope reinforcement techniques for a Himalayan landslide", International Conference on Recent Advances in Rock Engineering (RARE 2016), Bengaluru, India, 16-18th November, 2016. DOI:10.2991/rare-16.2016.16
National Conferences

Neeraj, Pandit K., and Sarkar S. "Stability Assessment of Cut Slopes along Shivpuri to Kaudiyala Road of NH 58 in Uttarakhand Himalayas", Indian Geotechnical Conference 2018, IISC Bangalore, December 13-15, 2018.
Kumar P., Pandit K., and Uniyal P. "Lateral Load Behaviour of a Single Vertical or Batter Pile", CoNMiG-2017 in the honor of Prof M N Viladkar, IIT Roorkee, March 03-04, 2017.
Pandit Koushik and Singh Mahendra "Predicting Safety of Underground Coal Pillars by Artificial Neural Network Techniques", Sixth Indian Rock Conference, IndoRock 2016, IIT Bombay, Mumbai, June 17-18, 2016.
Singh Mahendra, Pandit Koushik, and Shaunik Divya "Some Aspects of Geotechnical Invetsigations at Subree Landslide, Mussoorie", 50th Indian Geotechnical Conference 2015, College of Engineering, Pune, December 17-19, 2015.
Mudliar R., Singh M., and Pandit K. "Deterministic and Probabilistic Stability Analysis of a Rock Slope in Garhwal Himalayas", Golden Jubilee Conference of the IGS Bangalore Chapter, Geo-Innovations, 30-31 October, 2014.
Pandit K., Chourasia A., and Bhattacharyya S.K. "Algorithm Developed by Numerical Approach for Improving Underground Coal Recovery", Indian Geotechnical Conference 2013, IIT Roorkee, December 22-24, 2013.
Pandit K., Chourasia A., and Bhattacharyya S.K. "Depillaring of Coal and Mine Roof Supports", Proceedings of 28th National Convention of Civil Engineers & National Seminar on Role of Infrastructure for Sustainable Development, IEI Roorkee, October 12-14, 2012.
Technical interim report (2019) on "Quality Assessment of EWS Houses at Pandavnagar, Meerut" for Meerut Development Authority (MDA), Government of Uttar Pradesh (worked as Co-PI of the project).
Technical report (2018) on "Geotechnical Investigation and Drainage Measures for Tehsil Building at Champawat, Uttarakhand" for Uttarakhand Tourism Development Board, Government of Uttarakhand (worked as Principal Investigator, PI of the project).
Scientific Books / Book Chapters: 01
Pandit K., Sarkar S., Sharma M. (2019) Optimization Techniques in Slope Stability Analysis Methods. In: Pradhan S., Vishal V., Singh T. (eds) Landslides: Theory, Practice and Modelling. Advances in Natural and Technological Hazards Research, vol 50. Springer, Cham. DOI: 10.1007/978-3-319-77377-3_11, Web-link: https://link.springer.com/chapter/10.1007%2F978-3-319-77377-3_11
Google Scholar profile: https://scholar.google.co.uk/citations?hl=en&user=kw_e9gcAAAAJ
ResearchGate profile: https://www.researchgate.net/profile/Koushik_Pandit2
ORCID profile: https://orcid.org/0000-0001-8741-8685
Patents filed / granted: 01
Patent on "Method For Strengthening Coal Pillars To Improve Underground Coal Recovery" by Dr. Ajay Chourasia, Shri Koushik Pandit and Shri Jalaj Parashar, filed in 2018 (No. 0156NF2018).
Processes Developed: NIL
Process Under Utilization: NIL
Awards and Distinctions (including fellowships of the learned societies):
| | | | |
| --- | --- | --- | --- |
| Name of Award | Awarded by | Awarded for | Year |
| National Merit Scholarship | MHRD | Higher Secondary | 2006 |
| Q.H. Trainee Scientist | CSIR | M.Tech | 2011-14 |
| Research Assistantship | MHRD | PhD | 2014-16 |
Professional Experience:
Assistant Professor (2017-present) at CSIR – CBRI for the discipline of Engineering Sciences in the Academy of Scientific and Innovative Research (AcSIR), New Delhi (http://acsir.res.in/facultylist/). Courses taught: Fundamentals of Soil Mechanics (ENG-CBRI-1-1148); Advanced Foundation Engineering (ENG-CBRI-1-1103).
Industrial training experience in a water treatment plant and a (G+13) high-rise building construction.
Memberships:
Member of Bureau of Indian Standards (BIS) committee on Rock Mechanics (CED 48)
Executive Committee Member of IGS Roorkee Local Chapter for the year 2016-18
Life Member (

LM-3732

) of Indian Geotechnical Society (IGS) (http://igs.org.in/)
Life Member (LM-2065) of Indian Society for Rock Mechanics and Tunnelling Technology (ISRMTT) (http://www.isrmtt.com/)

Invited Talks/ Workshops:
Delivered a presentation on "Geo-technical Aspects for Building Foundations on Rock Masses" at National Disaster Management Authority (NDMA) Bhawan, S.J. Enclave, New Delhi on 28th May, 2019.
Delivered a lecture on "Numerical Methods for Slope Stability Analysis" at CSIR – CBRI on 12th March, 2019 for training of Officers of Geological Survey of India (GSI) and participants from other organizations like DMMC, Dehradun; THDC etc. as part of a training program on "Geo-technical and Engineering Geology" at Dehradun from 6th to 13th March, 2019, organized by Geological Survey of India Training Institute (GSITI).
Delivered a lecture on "Landslide Hazards and Slope Stability Problems in the Himalayas" in the 2-days National Workshop on "Landslide Mitigation and Detailed Project Report (DPR) Preparation" sponsored by National Disaster Mitigation Authority (NDMA), New Delhi and held at CSIR – CBRI, Roorkee during 17th-18th January, 2019.
Delivered a presentation on "Stability Assessment of Road Cut Slopes Along a National Highway in the Indian Himalayas" at Institute of Mountain Hazards and Environment (IMHE), Chengdu, China on 30th November, 2018.
Delivered invited lecture classes for Engineers of Druk Green Power Corporation Limited, Bhutan under the International Training Programme on "Planning and design of underground structures of hydropower project", held at AHEC Department, IIT Roorkee, India during February 21st-28th, 2017.
Thesis / Project Works Supervised:
B.Tech Internship Project Report (2019) on "Influence of Discontinuities on Stability of Himalayan Rock Slopes" by Vaidika Saini, THDC Institute of Hydro-power Engineering & Technology, Tehri, Uttarakhand.
B.Tech Internship Project Report (2019) on "Slope Stability and Seismic Bearing Capacity of Shallow Foundations on Sloping Ground" by Shelly Thakur, Jawaharlal Nehru Government Engineering College, Sundernagar, Mandi, Himachal Pradesh.
B.Tech Internship Project Report (2019) on "

Slope Strengthening Using Micro-Pile Reinforcement

" by

Mradul Agarwal

, Vellore Institute of Technology, Tamil Nadu.
M.Tech Dissertation Thesis (2018) on "Stability Assessment of Road Cut Slopes along Shivpuri – Kaudiyala Route (NH – 58), Uttarakhand Himalayas" by Shri Neeraj Dahiya under the supervision of Dr. Shantanu Sarkar, Shri Koushik Pandit and Dr. Satish Kumar for Department of Geology, Kurukshetra University, Kurukshetra, Haryana.
B.Tech Internship Project Report (2018) on "Design and Analysis of a Typical G+3 Building on a Hilly Terrain: With Special Reference to Foundations" by Mohd. Ashraf Khan, PSG Institute of Technology and Applied Research, Tamil Nadu.