CSIR  Integrated Skill Initiative
Skill Development Programme
CSIR – Central Building Research Institute
Roorkee – 247667 (UK)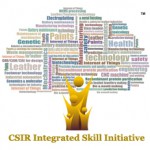 Background:
Located close to the foothills of Himalayas in divine pilgrim's land of Uttarakhand, CSIR-CBRI has a focused research mandate for generating, cultivating and promoting building science and technology in the service of the country. During the last few decades, the dynamic team of scientific community, dedicated to provide solutions to the building construction and building material industries has been providing appropriate and economical solutions in the area of planning and design, building materials, disaster mitigation, fire safety, energy efficient rural and urban housing etc. The Institute is committed to serve the people through relevant R&D and maintains linkages at international and national level. Promoting industrial growth through technological interventions is a constant endeavour and several technologies developed by the Institute have been transferred to industries and has generated employment opportunities.
Vision:
Development of updated implementing machinery of the country and cadre of employable skilled human resource in building science and engineering for building sustainable habitat.
Mission:
To generate quality human resource at various levels by upgrading skills in the field of improved building construction technologies and systems.
Aims & Objectives:
The aims and objectives of the proposed programmes are;
Upgradation of knowledge on latest building systems and technologies of implementing agencies.
Creating a pool of skilled human resource for building construction industries.
Developing employment oriented skill programmes in the core competency areas of CSIR-CBRI.
Aligning the skill programmes with CSIR Integrated Skill Initiative, National Skill Development Council and Sectoral Councils to meet the national objectives.
Developing market/industry driven courses with emphasis on hands-on practical learning.
Coordinator of the CSIR-CBRI Skill Development Programmes:
Prof. R. Pradeep Kumar
Director,  Email: director [at] cbri.res.in, Phone : 01332-283323
 Nodal Officers:
Dr. R. Dharmaraju
Chief Scientist,  Email: rdraju [at] cbri.res.in, Phone : 01332-283212
Co-Nodal Officer:
Mr. Nadeem Ahmed
Sr Principal Scientist, Email: nasrrlj [at] cbri.res.in, Phone : 01332-283341
Dr. Chandan Swaroop Meena
Sr Scientist, Email: chandan [at] cbri.res.in, Phone : 01332-283253
CSIR-CBRI offers Skill Development Training Programmes on the following:
Multi-Hazard Resistant Construction Systems
Rehabilitation/Retrofitting of Buildings
Heritage Buildings
Fire Safety and Evacuation Design for Buildings
Water Proofing Treatment in Buildings
Utilization of Bamboo as Building Materials
Partially Precast Building Construction
Improved Rural Housing & Sanitation
Disaster Safe Building Construction Practices
Low Cost Housing & Sanitation Systems
Precast & Prefabricated Building Components
Production and Use of Environmental Friendly New Building Materials
Landslide Control Measures
Structural Pest Management
Vocational Training
The details of upcoming skill development training programmes will be notified with application format for registration of interested participants.