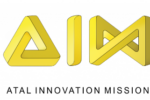 About Jigyasa
JIGYASA is one of the most significant initiatives that the CSIR undertook at the national level during its Platinum Jubilee Celebration Year, as an inspired vision of a new India and Scientific Social Responsibility (SSR) of the Institution. The programme's mission is to support school-aged students in developing a culture of scientific thinking. The JIGYASA Program is an effort towards implementing the practice of "doing science" as an effective educational experience. In this regard, CSIR-Central Building Research Institute, Roorkee, has taken on the task of inspiring young students to cultivate a scientific mindset and foster favourable perceptions of science by engaging in interaction-based learning. The Institute provides a research-based learning atmosphere through students-scientists interactions and hands-on activities to expand their interest and knowledge in all aspects of science.
About Atal Tinkering Lab (ATL)
With a vision to 'Cultivate one Million children in India as Neoteric Innovators', Atal Innovation Mission is establishing Atal Tinkering Laboratories (ATLs) in schools across India. This programme aims to foster curiosity, creativity, and imagination in young minds and inculcate skills such as design mindset, computational thinking, adaptive learning, physical computing etc. In order to foster inventiveness among students, ATL can conduct different activities ranging from regional and national level competitions, exhibitions, workshops on problem solving, designing and fabrication of products, lecture series etc. at periodic intervals.
Jigyasa Aim & Objective
Connect KVS, NVS, State Govt. & other schools with Laboratories of CSIR.
To enable the students to practically live the theoretical concepts taught in science by visiting CSIR laboratories.
To inculcate the culture of inquisitiveness and scientific temper amongst the school students through various activities.
To encourage experimentation and innovativeness in education
To promote Science by nurturing the latent potential talent of students at the initial stage.
To generate awareness of emerging global/national issues.
To create scientific temper among under privileged communities
Jigyasa Models of Engagement
CSIR Foundation Day & Laboratory Foundation Day Celebrations
Important Awareness Days
Scientists as Teachers
Lab Specific Activities / Onsite Experiments
Visits of Scientists to Schools/Outreach Programmes
Popular Lecture Series/ Demonstration Programme at Schools
Science Exhibitions
Student Residential Programme
Mentoring and Guiding Teacher
Inculcating Scientific Temper amongst Students and Teachers.
Contact Us
Coordinator of the CSIR-CBRI JIGYASA Student-Scientist Connect Programme:
Prof. Pradeep Kumar Ramancharla, Director, CSIR-CBRI Roorkee
Email: director@cbri.res.in , Phone: 1332-272243, 283393
Nodal Officer of the CSIR-CBRI JIGYASA Student-Scientist Connect Programme:
Dr. Pradeep Kumar Singh Chauhan, Senior Principal Scientist, CSIR-CBRI, Roorkee, Professor AcSIR
Email: pkschauhan@cbri.res.in, pradeepali92@gmail.com, Phone: 1332-283261, Mobile No.-9411100994
Co-Nodal Officer of the CSIR-CBRI JIGYASA Student-Scientist Connect Programme:
Dr. Chandan Swaroop Meena, Senior Scientist, CSIR-CBRI, Roorkee, Professor AcSIR
Email: chandan@cbri.res.in , Phone: 1332-283253, Mobile No. – 8791595017
Dr. Hemlata, Scientist, CSIR-CBRI, Roorkee
Email: hemlata@cbri.res.in , Phone: 1332-283492, Mobile No.-9560078815